楽しい夏を!!鴨川福音教会の夏の祭り!
Super Summer Fun!
日日:2011年8月24日
Date: August 24th, 2011.
時間:朝から晩まで.
Time: From morning to evening.
是非、鴨川福音教会の夏の祭りに御家族と一緒にご参加してください!
Join us at The Kamogawa Church Summer Family Festa at Makino, Shiga
Prefecture!!
場所:滋賀県、高島市、マキノ町
Place: Makino Town, Shiga Prefecture
イベント内容:バーベキュー、ウオータースポーツ、ゲーム、家族と仲間の交わり、
など。
Activities: BBQ, water sports, games, family and friends fellowship, etc.
ウエブサイト:会場の詳しい情報とアクセスに関しては、ウエブサイトで見てくださ
い。
Check out the place:
琵琶湖|貸別荘 海津大崎 四季亭|URL引越しのご案内
http://www.nishijima-k.com/sikitei/
食事:食べ物と飲み物に関しては、各自ご持参ください。会場の貸別荘ににバーベ
キューグリル、台所等、調理器具一式がございます。ご自由に使っていただけます。
御参加下さる皆様、ダニエルまでご連絡ください。連絡先は下記の通りです:
RSVP Required.
If you plan to attend please contact:
Daniel
Mobile telephone: 090-2045-3888
Regular PC email: weddingprojapan@yahoo.com
宿泊:宿泊は可能ですが予約が必要です。一人当たり、一泊につき¥2,500で
す。予約したい方、ダニエルまでご連絡ください。(お風呂についてお知らせいたし
ます。ボディーソープ・シャンプーは有りますが、タオル類・洗面道具その他必要な
ものはご用意ください。)
Accomodation: If you plan on staying at the house over night, please inform
Daniel asap. Also please note that the cost is ¥2,500yen per person per
night. Please note well that there is soap and shampoo in the rental house,
however you should bring your own towels and toiletries.
ご参考:地図、周辺のマップをご参考に:
Map of venue and surrounding area: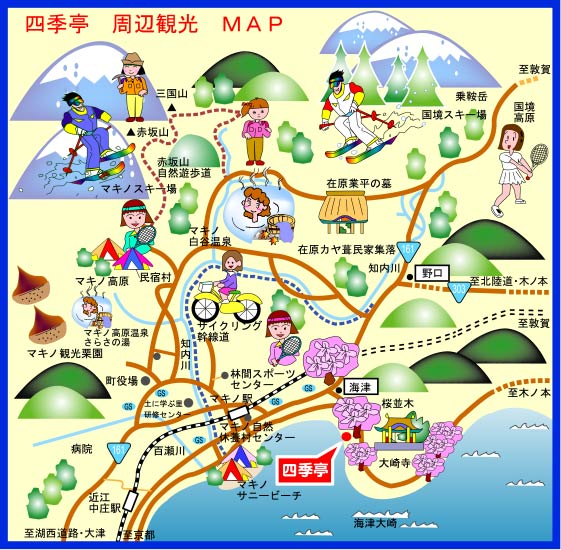 追加情報:
Additional Information:
The Kamogawa Church has rented a house with direct access to Lake Biwa, a
big kitchen and modern facilities, a nice space outside for BBQ, and bathing
and sleeping facilities.
The location is near to a nice beach, an onsen, hiking and biking, and lots
of other summer fun.
We will organize cooking and BBQing facilities, fireworks, and some snacks
and drinks.
However, we ask that you bring your own food and drinks. There are local
supermarkets if you need to shop before you arrive.
Regarding the sleeping arrangements, if you would like to stay at the house,
please let us know asap. There is enough space for about 15 to 20 persons.
The cost per person to stay overnight is ¥2,500yen. The place has plenty of
futons, sheets, pillows, and blankets. We have stayed at this house several
times and can attest that it is very clean and nice, with modern toilet
facilities.
If you come by train, we can arrange to pick you up at JR Makino Station.
We are looking forward to seeing you, staying cool, and having fun!
With very best regards,
Daniel